AWARD WINNING JOURNALIST LISA GUERRERO IS SHARING HER #BEINGBRAVE CAMPAIGN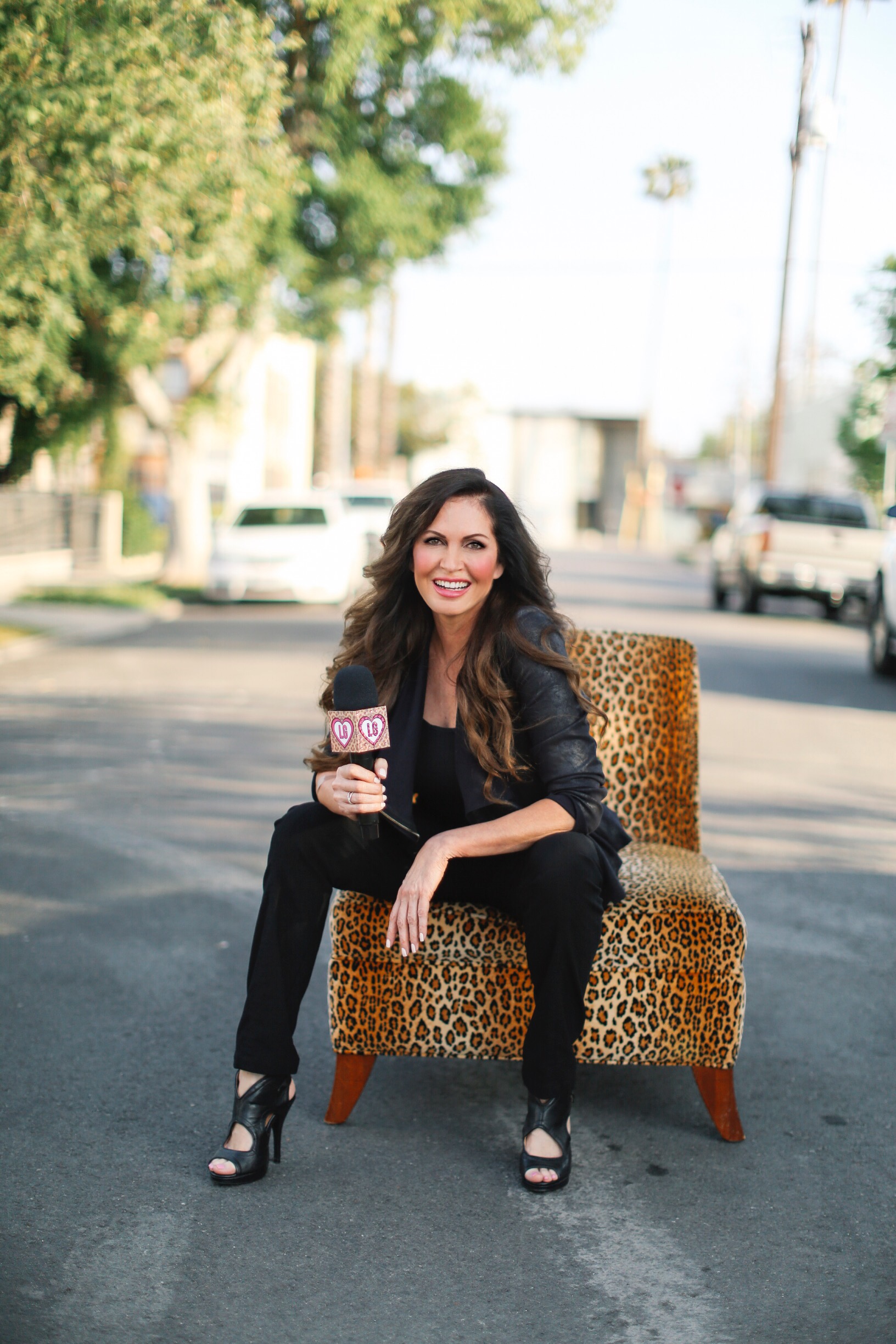 I so loved getting the chance to interview Lisa Guerrero! She's just got that contagious good energy, ya know? I hope you get inspired by her story… Thanks Lisa for sharing with us.
You are so inspirational. From acting, award winning journalist and featured as one of the most influential hispanics in America, who inspired you or continues to inspire you?
My inspirations have always been my mother and father. My mom, Lucy Guerrero, was an immigrant from Chile. She came to this country as a teenager and learned English at 17. She was a strong, beautiful, passionate woman who believed in social justice and fought for immigrants rights. She died at 29 years old (from Lymphoma) when I was eight, and as an adult I took her last name to honor her and so that people would connect me to my Latino heritage. I think it's important for young girls to see a Guerrero on television every night.
My father, Walter Coles, was a social worker and fundraiser for the Salvation Army and other non-profits. He has spent his entire career raising money for the hungry and homeless. He's my best friend (we talk on the phone daily and I try to visit him in person at least twice a month) and he constantly inspires me with his good works and kindness. He's a brilliant man who earned his Masters Degree at University of Chicago and could have gone into business making a lot of money for himself but instead he chose to use his gifts to help others.
And finally my inspiration comes from the victims I interview for my investigations on Inside Edition. So many of them have lost so much: Their life savings, their home, or a loved one. They have been victims of scams or crimes yet they have decided to speak out and go on the record with me so that I can share their experiences with millions of people. Their bravery always floors me and I am so filled with gratitude that they've trusted me to tell their stories.
We love the #BeingBrave campaign you created. Can you share with us how this started and your intention in sharing it with other women?
I created my #BeingBrave campaign to try to encourage women and young people to find at their inner superhero. We all have it within us to be courageous… To stand up for ourselves and for others, but sometimes we worry about failure or looking bad. Most people don't enjoy confrontation so we avoid calling people out. But I want to encourage people to speak up and to stand up for ourselves and those who've been marginalized. I believe that everybody should commit a random act of bravery each day. Find a moment to do something outside of your typical safety net. If that means being the first person to raise your hand in class or in a staff meeting, or being the person to defend someone who's being insulted in a grocery store because of their accent, or being brave enough to walk into your bosses office to ask for the raise you deserve… We can all find a moment every day to try to be more courageous. If you start doing that every single day then you will automatically become more brave as time goes by. Suddenly you will find your self to be the badass that you know you should be. I want everybody to go forth and #BeBrave!
You have accomplished so much and in various fields. Was there ever a time you doubted yourself and if so, how did you keep moving forward?
Before I was an investigative reporter I spent over a decade as a sportscaster. In the 90's I had a lot of success in Los Angeles as the first woman to earn a sports reporting contract at CBS and quickly was discovered by the national networks. I became a sports anchor and host at Fox Sports Net before being hired by ABC as the sideline reporter for Monday Night Football In 2003. Although I really knew my sports and was passionate about my work, I wasn't a good fit in that format doing seven second injury reports and a quick question to an athlete or a coach at halftime or after the game. I was much better as an anchor or as a journalist doing sit down interviews with controversial athletes. Long-form journalism, opinion driven hosting and anchoring suited me much better in sports. I was fired by Monday Night Football after just one season. I thought my career was over and I never thought I would be a reporter or anchor again. But after I picked myself up and dusted myself off, I realized that I am a passionate storyteller and I wanted to find another audience besides sports fans. The opportunity Inside Edition gave me, as an investigative journalist has absolutely changed my life. This is where I am supposed to be… Being a true advocate for victims, telling their stories and chasing bad guys. This is an absolute dream job and it never would've happened had I not been fired. Things happen for a reason. I know it sounds corny but it's definitely true!
You work around the clock it seems with all that you do. How do you find the balance or recharging moments?
I am on the road more than 200 days a year between doing keynote speaking for my #BeingBrave campaign and shooting investigations for Inside Edition. When not working I try to surround myself with positivity… My family and friends are a support system that I rely on. Confronting criminals and scam artists is both physically and emotionally exhausting so I have to try to maintain a balance when I'm not on camera. I have discovered that art is an important outlet for me. I wrote a book a couple of years ago called a Jewelry For Your Table (Schiffer Books) where I take vintage brooches and create napkin rings out of them. I am also a Mosaic artist and my work has been shown in galleries all over the country. Mosaic art has truly become my passion and I take every opportunity I can to escape into my studio and create art (while sipping a glass of wine). It's all about balance! I encourage everyone to find their inner poet, writer, and artist!

What would you say to a woman reading this that is doubting her bravery?
I would say to that woman, first of all, I understand! Too many times on social media we compare ourselves to others and we feel like we are the only ones who doubt ourselves, make mistakes, or are facing enormous challenges. Every single person you see on Instagram that seems to have a perfect life has problems of her own that you will never see. I encourage women to try to see beyond what you think are your faults and instead, concentrate on your strengths. See yourself as the people who love you see you. You are a brave superhero inside and you need to find opportunities to unleash her. Try to focus on standing up for others and slowly you will see a strength in yourself that you didn't realize was there all along. When we focus on ourselves instead of people who need our help, we become self-absorbed and insecure. When you devote time and attention to those who need your help, we start to see ourselves differently.
What was the biggest lesson you learned in being brave?
The biggest lesson I've learned in my journey to #BeingBrave is that I don't have to be perfect to make a difference. I have faults and insecurities but I try not to dwell on those things because I know that my time is better spent focusing on career goals, my friends and family, and people who need me to tell their stories on Inside Edition and now on my own YouTube channel, LisaGuerreroTV. (Launches July 1st) I've learned that creating positive things in the world, whether it be investigative reports, mosaic art, videos on YouTube that I hope will inspire and educate women, I've begun to worry less about my problems and focus more on putting positive things out there into the world.
What's next for you?
I've been spending the last few months creating content over 30 videos so far!) for my new YouTube channel. I want LisaGuerreroTV to be full of inspiring and entertaining videos that include original investigations into health and beauty products, behind-the-scenes videos about my Inside Edition investigations, art and cooking tutorials, and a look at my #BeingBrave campaign as I travel the country encouraging women to share their stories about finding their "inner badass" with me. My investigations on Inside Edition's YouTube channel had over 120 million views last year alone so I know there is a lot of interest in my reports, so through my own channel I am hoping to expand on that theme and include other topics too. I think women are multi dimensional and we are great multitaskers! Besides just chasing bad guys on TV, I love art, cooking, home decor, DIY, sports, living a healthy lifestyle, and encouraging others to develop their #BeingBrave selves! I know a lot of YouTubers are in their 20s and doing make up tutorials or dudes playing pranks on people or posting shocking videos to get subscribers. As someone in her 50s that's had a long career on camera, I want to post videos that show in a fun and positive way the things that I've learned and the challenges I've faced (and continue to face) so that I can inspire others!

ABOUT LISA //
Lisa Guerrero is the award winning Chief Investigative Correspondent for America's top rated syndicated news magazine, Inside Edition. One of the most versatile broadcasters on television, Lisa has guest co-hosted The View, been a special correspondent for Dr. Phil and is a frequent guest panelist on CNN and HLN. She is also a successful actress having starred in Aaron Spelling's, Sunset Beach and guest starred on Southland, Frasier and The George Lopez Show. Lisa recently played herself in the Academy Award nominated film, Moneyball.

PHOTO CREDIT : Wendy Kathleen McElfish